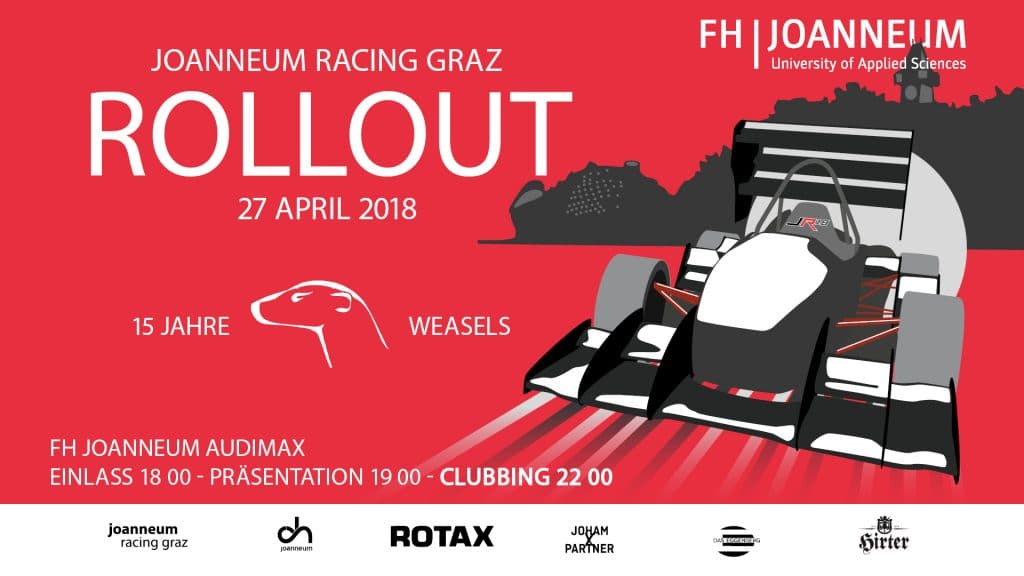 It's happening: After long and hard work, jr18 is ready to start and before it has to prove itself in the competitions, the annual rollout takes place. Without our sponsors and partners, it would never have been possible to complete a competitive racing car again. Therefore, as a thank you for your support during the completion, we would like to invite you to the rollout 2018.
The presentation of jr18 will take place on 27 April 2018 in the Audimax of FH JOANNEUM, Eggenberger Allee 11 and the reception will start at 6 pm. The ceremonial unveiling of jr18 is the highlight of the presentation, which starts at 19:00.
The entire team has been working towards this day for months and is eagerly awaiting the moment when the many hours invested will finally pay off and jr18 will be proudly presented. We would be delighted if you could be part of this moment and take the time to take a closer look at the car and celebrate the success together with all the members who are behind jr18. We provide food and drinks against thirst and hunger.